About
Tom Nook is a character from the video game series Animal Crossing. First appearing in 2001 with Animal Forest, Nook is depicted as a tanuki or Japanese raccoon dog with a multitude of outfits depending on the game. As a prominent character in the Animal Crossing series, Nook has appeared in numerous memes, fan art depictions and other online media since he was introduced.
Origin
Tom Nook has been a recurring character in the games since the first title, Animal Forest, released in Japan on April 14th, 2001, for the Nintendo 64.[1] Nook typically appears not long after starting the game in the first Animal Crossing titles. After you place your house, he often has you pay back the house on loan by working for him through doing various odd jobs around the town. Afterward, he lets you off to make bells in your own ways. This loan is usually the main goal of the game, so it is meant to be a staggering amount (shown below).
In later installments, such as New Leaf, he has his apprentices Tommy & Timmy (also tanukis) run the shop while he handles the housing business "Nook's Homes" entirely (shown below). In Happy Home Designer, players work for him at Nook's Homes designing homes and various buildings for villagers to live and work in.
Lore
In the game lore, Tom Nook originally lived in a small town and eventually decided to move to the city in search of better opportunities. Unfortunately, Tom's life in the city was not kind to him, and was forced to move back to his small town in which he set up his shop "Nook's Cranny." He had a close relationship with Sable Able and even sent her a pair of scissors as a birthday gift, but that relationship started to break down after his return from the city. This is explored in a lore video uploaded to YouTube by the channel Krisselia[2], uploaded on July 7th, 2020, which earned 235,000 views in two years (shown below).
Online Presence
Fan Reception
Fan reception to Tom Nook has always been mixed. There are some who view Tom Nook as a Jeff Bezos style mogul, who forces you into an ever-increasing loan while demanding you pay it off by working for him or else, as seen in screenshots from earlier Animal Crossing titles (shown below).
However, Tom Nook has had a shift in tone and disposition over time, with the expanded parts of his backstory helping to fill in the gaps and letting people see that Tom Nook is always trying to help the player to be responsible. This stark contrast in viewpoints was exemplified in the meme posted to the AnimalCrossing fandom page[3] by CakeTheGreat on September 9th, 2020 (shown below).
Fan Art
Being a mainstay character of a popular game for over two decades, Tom Nook has over 2,030 tagged images on E621, 4,700 results on DeviantArt and 1,500 on Rule 34. Tom Nook fan art often is the same theme as the general sentiment surrounding him, which can be him as a brutal tyrant. This can be seen in the fan comic written by bobipineman (shown below).
Related Memes
Defeat Tom Nook
Defeat Tom Nook is a catchphrase about the impossible task of defeating the Animal Crossing raccoon vendor character Tom Nook. The phrase stems from an email one Twitter user received from a professor in April 2020 in which the professor hopes their students have all "defeated Tom Nook" later admitting that the professor had never played it. The phrase circulated on Twitter parodying the impossible scenario of defeating the shopkeeper character.
Tom Nook At A Desk
Tom Nook At A Desk refers to a series of photoshopped images and jokes based on several screenshots of video game character Tom Nook from the Nintendo Direct announcement of Animal Crossing for the Nintendo Switch.
Nookazon
Nookazon refers to a fan-made site in which people can buy and sell items and characters from Animal Crossing: New Horizons to others using the game's in-game currency, Bells. The name is a portmanteau between Tom Nook and Amazon.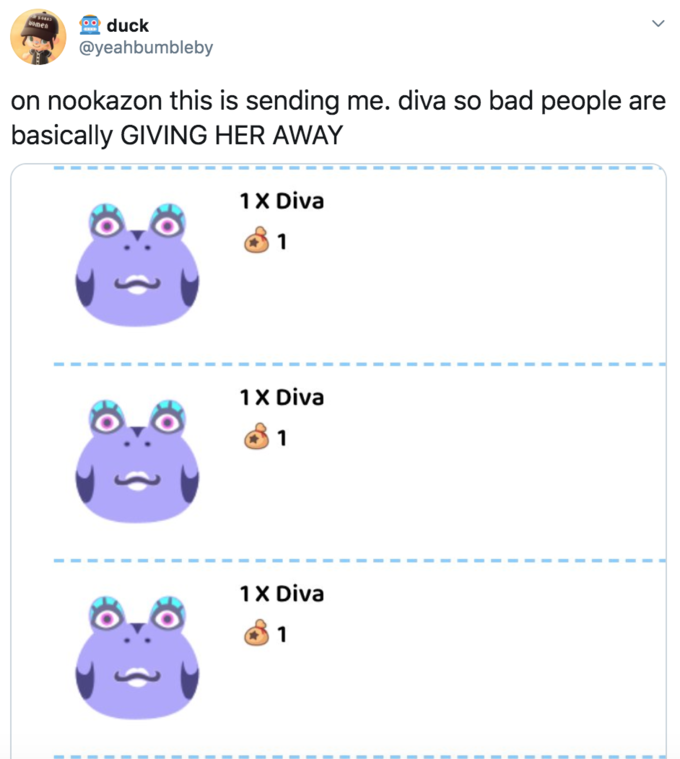 Top entries this week
Related Entries

(14)



Sub-entries

(2)
Recent Videos

(3)
Recent Images

(32)
The latest from KYM
Event
'#StopCookieRunNFTs' refers to the hashtag used by fans to hate on Devsisters' decision.
Updated